Food & Drink
The Mayflower
Following their long awaited opening, we are proud to welcome The Mayflower to St Leonards Square! Featuring a spectacular display of art, The Mayflower is a dining
experience like no other – it's an immersion of the senses.

A slice of nature, nestled within the chaos of urban living, The Mayflower menu offers a taste of luxury as they elevate everyday classics to a new redefined level. From Lobster Sashimi to Scallop Wonton's and Tofu Ragu, their menu will transport your taste buds.

Along with the spectacular food, The Mayflower has brought world-renowned digital
media artist Refik Anadol's "Quantum Memories" to Sydney along with Don De Lamour's theatrical and dramatic floral installations and thousands of butterflies – The Mayflower is truly an immersion of the senses.

A creative atmosphere, with a touch of caviar & truffle… The Mayflower is sure to
become a must-eat-at destination amongst Sydney's North Shore. Come in and meet the friendly team and enjoy the food, atmosphere, service and staff today.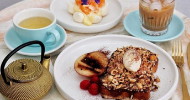 Mayflower
Monday - Tuesday
11am - 3pm
Wednesday - Thursday
11am - 3pm, 5pm - 10pm
Friday - Saturday
8am - 11am, 12pm - 3pm, 5pm - 10pm
Sunday
8am - 11am, 12pm - 3pm