Mirvac breaks ground at St Leonards Square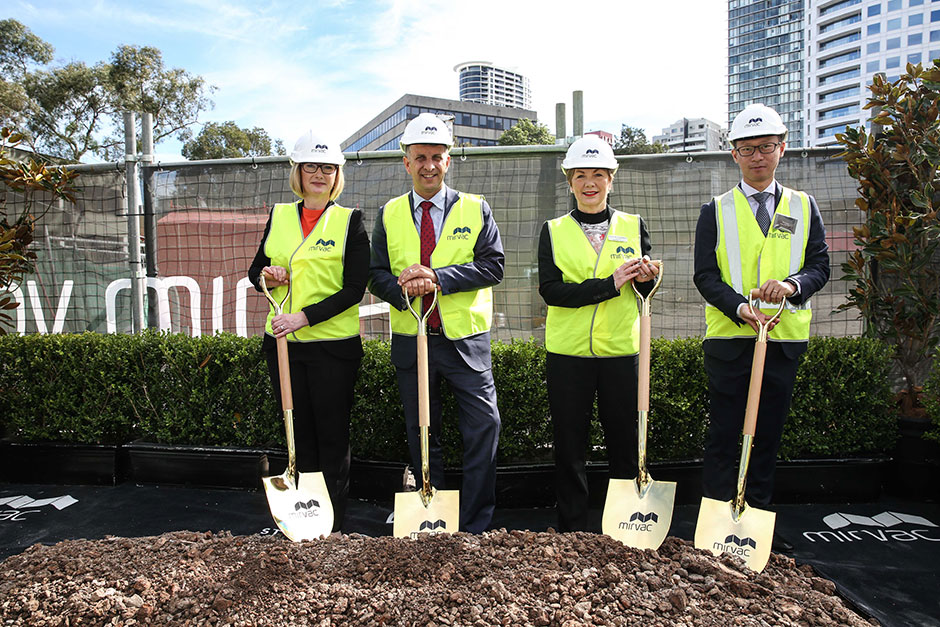 Mirvac today formally broke ground on its transformative new St Leonards Square mixed use project with public transport identified as the key to its extraordinary success.
Officially marking the beginning of construction for the gateway project, Mirvac CEO and Managing Director, Susan Lloyd-Hurwitz, together with NSW Transport and Infrastructure Minister, Andrew Constance, both credited the coming Sydney Metro as critical to housing growth and business opportunity.
St Leonards Square, a joint venture between Mirvac and its partner Ping An Real Estate, will form a new heart in St Leonards, a lower north shore suburb undergoing enormous change as it transitions from a largely commercial area into a vibrant mixed use destination offering a lively shopping precinct, laneway connections and green space.
Ms Lloyd-Hurwitz said many purchasers at St Leonards Square, which will feature 526 apartments, and around 7,500 sqm of commercial and ground floor retail space for cafes and a supermarket, had been motivated by the prospect of a new Sydney Metro station at Crows Nest, just 150 metres away and expected to be operational from 2024.
"St Leonards is undergoing enormous change from a largely commercial precinct to a mixed use destination that is attractive for living, working and leisure," said Ms Lloyd-Hurwitz.
"The success of this urban renewal process is dependent on good public transport and while there is an existing rail station at St Leonards that links to Chatswood and the CBD, the arrival of the Sydney Metro with the Crows Nest station not only meets future demand but elevates mobility and accessibility to a new level.
"For residents at St Leonards Square the Sydney Metro will mean a 'turn up and go' experience with a train planned every four minutes in peak times, halving travel times to Central and Martin Place and providing a fast direct link to knowledge based employment centres such as North Ryde and Barangaroo."
Mr Constance said Sydney Metro had been conceived as an integral part of the government's wider Plan for Growing Sydney.
"Sydney Metro is a game changer for NSW, creating unprecedented capacity to get people moving," said Mr Constance.
"This government is investing record amounts of money into public transport because for too long Sydney was grinding to a halt.
"Today we see one example of what happens when governments invest in the future – it triggers growth in housing to accommodate a growing Sydney. It's also a catalyst for new business opportunities and jobs.
"It's terrific to see the tangible benefits new transport can deliver and it's a sight we'll no doubt see replicated across Sydney as even more investment occurs."
Ms Lloyd-Hurwitz said the market response to St Leonards Square was very pleasing with over 70 per cent of the two towers sold on the first day of their respective launches last year and total sales currently exceeding 90 per cent.
"We are very proud that 40 per cent of buyers were repeat Mirvac customers. That level of customer loyalty and trust is something that we have worked very hard over a very long time to earn and maintain," said Ms Lloyd-Hurwitz.
"We felt confident that St Leonards Square would meet the needs of discerning purchasers, despite the very competitive environment with competing projects nearby."
St Leonards Square has set a benchmark for luxury with residents enjoying access to exclusive club facilities including a pool, spa, gymnasium, outdoor barbecue terrace, sauna and steam room, as well as function spaces including a kitchen and dining room, meeting rooms, cinema and music rooms.
Mirvac aims to complete St Leonards Square in the second half of 2019.